2023 Boise Community Ski Swap
2023 Boise Community Ski Swap 10360 W. Overland Boise Idaho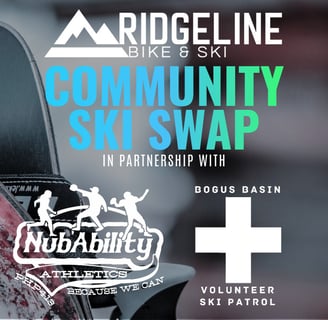 The Boise Community Ski Swap is back for its third year, promising an exciting weekend for winter sports enthusiasts and a chance to support two noteworthy causes. This popular event will be held at Five Mile Plaza, located conveniently at the corner of Overland and Five Mile, near Country Time Doughnuts at 10370 West Overland.
Supporting NubAbility and Volunteer Ski Patrol

One of the standout features of this year's ski swap is its commitment to giving back to the community. The beneficiaries of this event are the NubAbility organization and the dedicated Volunteer Ski Patrol at Bogus Basin.
NubAbility, a non-profit organization, is dedicated to empowering individuals with limb differences to participate in sports. They host a winter camp at Soldier Mountain, where they teach adaptive skiing techniques to children and young adults. This life-changing experience gives participants the skills and confidence they need to conquer the slopes, demonstrating that nothing is impossible. The funds raised during the ski swap will go towards supporting this vital winter camp, ensuring that more young athletes can benefit from these transformative experiences.
On the other hand, the Volunteer Ski Patrol at Bogus Basin is a group of passionate volunteers who play a pivotal role in ensuring the safety of visitors to the beloved Bogus Basin ski area. They provide first aid, conduct rescue operations, and help maintain the safety and enjoyment of the slopes for all. Your support at the ski swap directly contributes to their efforts to keep the slopes safe for everyone.

Event Details

The Boise Community Ski Swap is a two-day extravaganza for winter sports enthusiasts. It will kick off on Friday, October 13th, at 2 PM, and run until 7 PM, giving attendees a head start on finding incredible deals on ski and snowboard gear.
The excitement continues on Saturday, October 14th, starting at 9 AM and concluding at 3 PM. This extended day of swapping gear ensures that everyone has ample time to explore the wide selection of items available.
For those looking to make a donation or swap their gear, the drop-off event will take place on Thursday, October 12th, between 4 PM and 7 PM. This is the perfect opportunity to contribute to the causes and make room for some new gear for the upcoming season.

Firesale Extravaganza

For savvy shoppers and bargain hunters, a special treat awaits on Saturday, October 14th, from 12:00 PM to 3:00 PM. Items marked as firesale will be available at an extra 50% discount, making this the perfect time to snag incredible deals on winter gear.

Join the Excitement

The Boise Community Ski Swap is not just about gear; it's about coming together as a community to support two exceptional causes while gearing up for the winter season ahead. Whether you're a seasoned winter sports enthusiast or a newcomer to the snow, this event promises a great time for all.
So, mark your calendars, gather your gear, and head to Five Mile Plaza on October 12th, 13th, and 14th. Let's make this year's ski swap the best one yet, as we support NubAbility and the Volunteer Ski Patrol at Bogus Basin. We hope to see you all there, ready to share in the excitement of the upcoming winter season! Don't forget to join us for the firesale on Saturday afternoon to snag those extra special deals.
Thanks for your support as always.
Jeremy